Can You Afford to Retire?
Fox News Survey

"When Do You Plan to Retire"
Before Age 65 – 32%
At Age 65 – 19%
After Ager 65 – 23%
Never – 23%
Age of golden workers: Many seniors working into the 80s and 90s to stay active – Never Retire
Many seniors are working into their 80s and 90s in a bid to stay mentally and physically active
Mr. Henry Lim, 81, hangs out by the swimming pool and tennis courts four to five days a week, but instead of lounging around, he is working.
A facilities assistant at Mandarin Gardens condominium in Siglap, he registers residents who want to use facilities such as the gym, swimming pool and tennis, and squash courts.
"I like my job because it lets me meet people. I treat my colleagues and the residents like my friends and I like to make friends," he says.
In the past, he was a transportation and taxi coordinator as well as an operations assistant at a local sports club. The grandfather of three and father of two daughters started his current job in November. Mr. Lim, whose wife, 78, is retired, says: "I work to keep myself busy. I don't need the money."
Like him, many seniors are working beyond retirement age – some into their 80s and 90s. While some need the money to survive, others work to stay mentally and physically active.
Currently, the retirement age is 62, but employers must offer re-employment to eligible staff who turn 62, up to the age of 65.
From July, the re-employment age will be raised to 67 to provide more opportunities for workers who want to continue working as long as they are healthy.
The workforce in many countries is getting older and Singapore is no exception. According to the Ministry of Manpower figures, the number of employed residents aged 70 and older has risen from about 16,000 in 2006 to about 43,000 last year.
The Sunday Times found six people aged 80 and older who are still working. Among them are Madam Goh Gwek Eng, 93, a McDonald's employee; Mr Seng Lee Fong, 90, a part-time bartender at Tanglin Club in Stevens Road; and Madam Chan Woh Hoong, 88, a kitchen assistant with restaurant chain Han's Cafe, who joined as a cleaner about 30 years ago.
The seniors who agreed to be interviewed said they did not need the money and chose to work because they wanted to stay active.
Non-governmental organizations, however, highlight that some elderly workers might, in fact, need the income to get by.
Ms. Julia Lee, director of the department of social work at Touch Community Services, says: "From our observation, there are many seniors who are still working because they may need the money to supplement their little savings and to keep up with the rising costs of living." She adds that many of them work as coffee shop assistants, hawker center cleaners and security guards.
Member of Parliament Seah Kian Peng, who chairs the Government Parliamentary Committee for Social and  Family Development, tells The Sunday Times: "There will be elderly who work because they actually need to, but prefer to say they are doing it not for money, but to keep themselves occupied.
"Some give their answers because of pride. Some are indeed not being supported by their children, but prefer… not to approach them for help.
"Some do not want to turn to social service offices or family service centers for help. And certainly, some just shy away and do not want to be interviewed."
This group, however, is probably not very large, he adds. "Most people who need help are being assisted by various agencies, such as the Government, charities and religious organizations."
Figures from the Ministry of Social and Family Development suggest that the number of needy elderly in  Singapore is rising.
From the financial year 2012 to 2015, the number of elderly households – with main applicants aged 70 and older – receiving short- to medium term assistance from ComCare rose from 1,627 to 2,464.
Comcare's short-to-medium term assistance provides financial help for a temporary period to individuals who are unable to find work for some time.
Over the same period, the number of elderly households receiving long-term assistance from Com- Care also rose, from 2,310 to 2,585.
Such assistance – also known as public assistance – helps people who are permanently unable to work and support themselves, as well as have limited family support.
Casual worker Lim Swee Ee, 90, is fortunate and does not fall into this group. In fact, she refuses to accept a salary. The Singaporean, who has been serving customers at the Khian Guan Goods trading store at Albert Centre in Bugis for the last 20 years, says: "I'm old, what can I do with the money? I will accept only food as my 'salary'."
She adds: "I am very happy interacting with customers – finding out what they want and helping them.
"I know I can retire, but I don't want to. If I stop working, I think my brain and body will shut down."
Doctors say that from a medical, standpoint, there is no research to suggest an age at which it is advisable to retire. Whether one should continue working depends on one's physical and cognitive function, and the type and intensity of one's work, they say.
Dr. Pang Wee Yang, a consultant who specializes in geriatric medicine at Khoo Teck Puat Hospital, says: "There is no reason to believe a person suddenly loses his ability to function effectively on the stroke of midnight on  his or her 67th birthday."
Associate Professor Reshma A. Merchant, head of National University Hospital's division of geriatric medicine, notes that of people aged 65 to 69, only 3 percent are considered "frail" and 63 percent are considered "robust and healthy". This is based on her research on the prevalence of frailty in the western region of Singapore. Of those aged 75 and older, only 9 percent are considered "frail".
"A few of my patients continue to work in hawker centers and have remained relatively healthy in their 80s."
One of them, in his 90s, even learned a new language, she adds.
Ms. Helen Lim, founder, and chief executive of Silver Spring, a job matching site for mature workers, says there are benefits to working beyond 80. "Working helps them keep dementia and loneliness at bay. More importantly, it gives them a sense of purpose and independence."
While doctors generally agree that employment contributes to better physical, cognitive and psychological well-being, some qualify that such positive effects are not exclusive to working.
Dr. Pang says: "Such effects can just as effectively be reaped from non-work activities. It really boils down to what, or where, one finds meaning in life."
---
WORKING SINCE HE LEFT SCHOOL AT PRIMARY 2
Since September 2015, Singaporean Koh Kow Yin, 83, has been working at Third Place cafeteria in Tuas. He is a full-time catering assistant there.
"All my friends are dead or retired. Many ask me why I am still working. I tell them it just makes me happy.
"I am not short of money. But if I do not have a job, I will have nothing to do and would feel so restless.
"I currently work five hours a day, from Monday to Friday. I cut and prepare fruit – such as watermelon, papaya, and starfruit – for customers.
"This cafeteria is operated by Select Group, a company that provides food services, and I also prepare fruit platters for other staff cafeterias under the group.
"I am a grandfather of three and have two sons, aged 60 and 59, and a daughter, 57, with my first wife who died six years ago.
"My second wife, Madam Ong Ah Sim, 65, is a dishwasher in the same cafeteria as me.
"We live in a one-room Housing Board flat in Boon Lay.
"Since leaving school at Primary 2, I have always been employed.
"In the 1950s and 1960s, I worked at an army camp canteen. In the 1970s and 1980s, I was a mechanic, fixing and maintaining machinery used for carpentry and airplane parts.
"When I turned 67 in 2001, my then-employer let me go because its insurance no longer covered me.
"I then became an office cleaner for 14 years, after which I was again let go because of my age.
"That was when I came to Third Place for a walk-in interview and was hired.
"I am back to preparing food for customers. And I like it.
"I guess whether to work or not really depends on whether it makes you happy.
"I think most people my age would not want to work. But for me, being employed helps me stay active and keeps me occupied.
"My eyesight is poorer than before and my movements are slower, but I have no health problems. So as long as my body lets me, I want to keep working."
America's Elderly Are Twice as Likely to Work Now Than in 1985
Just as single-income families began to vanish in the last century, many of America's elderly are now forgoing retirement for the same reason: They don't have enough money. Rickety social safety nets, inadequate retirement savings plans, and sky-high health-care costs are all conspiring to make the concept of leaving the workforce something to be more feared than desired.
For the first time in 57 years, the participation rate in the labor force of retirement-age workers has cracked the 20 percent mark, according to a new report from money manager United Income (in_gur_Jbexsbepr.cqs" target="_blank" rel="nofollow noopener noreferrer">CQS).
As of February, the ranks of people aged 65 or older who are working or seeking paid work doubled from a low of 10 percent back in early 1985. The biggest spike in employment has gone to college-educated older workers; the share of all employees age 65 or older with at least an undergraduate degree is now 53 percent, up from 25 percent in 1985.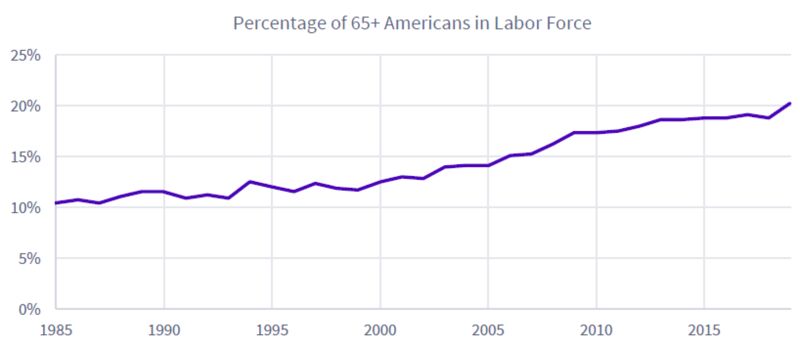 This rise of college-educated older workers has pushed the demographic's inflation-adjusted income up to an average of $78,000, 63 percent higher than the $48,000 older folks brought home in 1985. By comparison, American workers below the age of 65 saw their average income rise by only 38 percent over the same period, to an average of $55,000. United Income's calculations draw on recently released data from the Census Bureau and the Bureau of Labor Statistics (BLS).
There's a mismatch between older workers who need the income the most and those who are able to work and working, said Elizabeth Kelly, senior vice president of operations for United Income and a former special assistant to the president at the White House National Economic Council during the Obama administration.
"These are the more educated, wealthier individuals in better health who are continuing to work, but it's probably their less-educated, working-class counterparts who need to work the most," Kelly said.
The BLS expects the big wave of aging baby boomers to represent the strongest growth in the labor force participation rate through at least 2024. "By 2024, baby boomers will have reached ages 60 to 78," a BLS report noted. "And some of them are expected to continue working even after they qualify for Social Security benefits."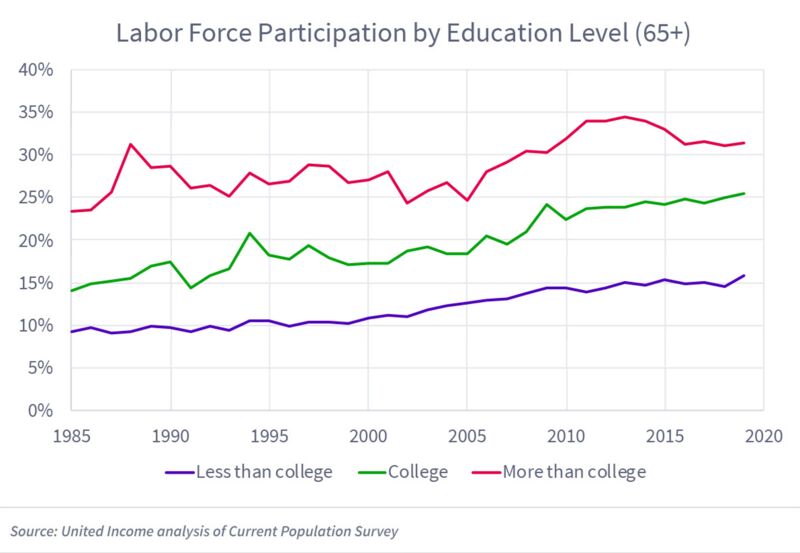 Retirement math is ugly, even for those who are seemingly well-off. Teresa Ghilarducci, an economics professor at the New School for Social Research, has estimated that Social Security replaces about 40 percent to 50 percent of one's pre-retirement income. The general thinking is that people need around 80 percent of pre-retirement income to get by after they stop working. (Online retirement calculators can give a rough sense for what you need to save, and earn on savings, to get there.)
The typical worker in the bottom 50 percent of the income distribution, earning less than $40,000 a year, has no retirement savings. Those in the middle 40 percent of the income distribution, earning from $40,000 to $115,000, have a median amount of $60,000 saved, according to Ghilarducci's research.
Workers in the top 10 percent of income distribution making more than $115,000, meanwhile, have a median amount of $200,000 saved. They, too, are woefully under-saved, although it's worth noting that these calculations don't include real estate and other tangible assets, or the chance of inheritance.
Ghilarducci's rough estimate of what a typical college-educated professional must amass to retire fairly comfortably? "Over $1 million or 2." No wonder more people are working longer.
Thanks for Reading When Do You Plan to Retire?



Dr. Don Yates Sr Ph.D., Founder
Serving Our Members and Readers Since 2004
ICFO Fund Raising
Monetized Blogs
Advertisers and Sponsors
ICFO Services
Add to Recommended LIst ($10)
Blog Entries or Advertising
New Blog or Websites
Automated content available